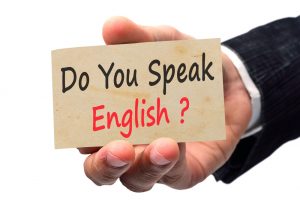 Master in English Speaking
Speaking is the process through which we communicate our thoughts, ideas and feelings to others. There are three forms in which speaking takes place- interactive speech, partial interactive and non-interactive speech. Here we shall discuss how we can make the interactive and partial interactive forms of speech much more effective and flawless. If you want to learn to speak English, you need to go through an English Learning course and need to keep in mind the following principles-
Fluency-
It means being able to use the language with ease. It includes speaking at a normal speed, without hesitation, repetition and with a flow of connected speech. It also comprises accuracy that is the correct form of grammar, vocabulary and pronunciation. To improve the later, reading new books and referring dictionaries can help a lot in the long run. fluency comes with continuous practice and one can keep on practicing with his parents, siblings, friends who speak good English and rectify his mistakes.
Quality of language-
Besides grammar, a speaker should also take care of the following mentioned points-
Use short sentences and short phrases for dramatic effect.
Use striking adjectives and adverbs. For example, instead of saying " We face many challenges.", use, "we face many exciting challenges."
Use striking images in the form of metaphors and similes.
Make moderate use of alliteration in sentences to add more effectiveness. For example, "Bullet is stronger than a bullet", "Our mandate and mission" etc.
Use humor by adding some anecdotes or humorous statements.
Subject matter-
What we speak is as important as how we speak. If we do not sound convinced by what we say, we cannot expect others to believe in it. There shall be no interest in it. We should have knowledge of what we are speaking of. We should be excited about sharing it with others rather than a just verbal transfer of information.
Organization-
Whatever you speak should have a nice introduction a body and a conclusion. The jumbled up matter is not very convincing and listeners lose their attention. If your subject matter is well organized and concise, you are set to make a better impression on your listeners.
Delivery-
Delivery is the most important part of any conversation be it person to person or person to an audience. Always remember that all eyes are on you and ears on your words. Keep in mind the volume of which you speak. While addressing a large audience you need to be loud and clear so people at the back can hear you. A good orator does not depend on a mic. Secondly, the tempo of your speech should be as such that the audience can keep up with you. Keep in mind the pitch with you speak. It shows your confidence level. A voice pitched at moderate is the most acceptable. Last but not the least your tone and expressions. A monotone is not appreciated while speaking, differing the tone of your speech with pauses and your facial expression can elevate the interest in your speaking. Therefore, mugging up is not going to help you, you need to speak from your heart and what you truly feel if you want to speak as a native speaker.
Still, if you find difficult to speak English fluently, you must undergo English  speaking classes from the best English Academy in Mumbai. Going through the English learning course will help you to understand the basics clearly.
Our Other Courses are:
Spanish | French | Arabic | Chinese | Mandarin |