EXCEL academy is the right place ..
Expertise over the years ..
IELTS  is basically an English test for testing the proficiency of the language in a candidate. Candidates are assessed in following bands: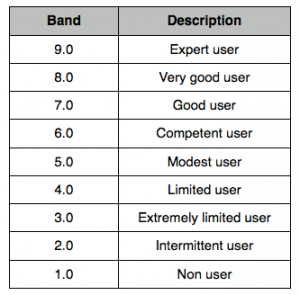 Total duration of the test :2 Hours and 45 min
Why Excel:
Developing good skill set in all the four fields.
Our focus is not only on preparing you academically but also boosting up your confidence that will help you to cope up in a new environment.
Enhancing your Language skills through intensive preparation by our senior IELTS training faculty.
Our counselor has the necessary expertise to guide you in the best possible way.
What you should expect  from Excel Academy:
Our teaching faculty sees to it that each student learns at a pace at which he understands. Personal attention is our USP.
Outstanding infrastructure :
We are all equipped with good infrastructure including a well-equipped library with the latest books and cassettes/CDs on IELTS.
Excel Academy provides extensive practice in the 4 modules at the level of the actual IELTS exam.
In the country like UK, applicants must score at least 6.5 on each of the four components of the test (Reading, Speaking, Listening and Writing).For working in a country like Australia, a test score of 5 is considered to be 'vocational English' level. A band score of 6 means that the applicant is a 'competent English' speaker. In Excel Academy, with the level of education, it becomes possible to score high.
Excel Academy is a leading IELTS training provider in Mumbai operating since the year 2002 with Certified British Council Trainers.
We conduct unique test series for students to help them maximize their score by improving their skills in Reading, Speaking and Active Listening.
IELTS registration center:
We at Excel Academy have an Authorized IELTS Registration Center.
ELTS-Exam practice Tests provides extensive practice in the 4 modules at the level of the actual IELTS exam. Offering free practice materials for all major exam task types, this section provides guidance on how to approach the real exam.
Our faculty has a 2 lakh hour of teaching experience  with a proven success record.
Voluminous study material:
A variety of authentic reading texts cover  the range of text types found in the actual exam. The answer key includes explanations as to why answers are correct, and model answers for all writing tasks.
So take the first step today and join us to excel with excel  Academy ….