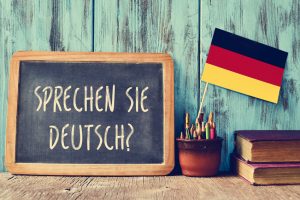 German Language Importance
Germany – famously known as the land of ideas – is cited as the third most popular destination among students from all over the world. More than 12% of the student population in Germany is from abroad.
Universities here are very well networked with those all over the world. And the prevailing culture of focusing on practical knowledge especially in science and technology makes German universities one of the best in the world. A degree from here is highly respected by employers all across the globe. We all know about the fantastic engineering Germans showcase in their cars and other machinery. "Made in Germany" is a seal of quality and inculcates a high level of trust.
Every year, more than 4000 students flock over to Germany to gain from their top-class education system. After graduation, they are gladly picked up by the most renowned companies in the world.
Germany, as a country too, is beautiful with its amazing landscape, places of historic interests, clean beaches, and awesome winter sports facilities. Their police department is adept in safeguarding the citizens and have the law and order in place. So, all in all, the mandates for going abroad to pursue higher education – which is: quality of education, hands-on experience, internship opportunities, lifestyle, and security – are all taken care of if you zero in on Germany.
And while everything from your application forms to visa clearance to financing formalities can be easily worked upon, one thing that you will have to diligently plan out is learning German language for which you will have to enroll yourself in a good German language course in Mumbai.
Yes! Germany takes pride in their language and over 95% of the population speaks German as their first language. In most of the universities also, the language used to communicate and to deliver lectures and instructions is German. Hence, it is imperative for you to know the German language well. This means that all the students who get admission in German-taught universities are required to clear certain tests on their proficiency in the German language.
And if you are wondering where to join a German language course in Mumbai, the answer is at Excel Academy. Our highly experienced team of dedicated advisors and teachers will help you chart out the best study plan to make your experience at the German learning classes in Mumbai very interesting and impactful. We assure you that in a matter of days, you will see evidential results.
It is also true that norms are different for different universities. Also, if you are joining a German university on a postgraduate level then you may not need to know the German language as most of the postgraduate courses are English-taught. So do find out if your university uses English as the medium of instruction and communication, in which case you obviously do not have to master the language. Similarly with the employees posted there on off-shore projects who mostly have to interact with their team members in English. However, it is still advisable to have a basic knowledge of German language to be able to effectively communicate with the local residents and avoid troubles while shopping, dining out or using public transport.
Don't wait up! Grab a world-class career opportunity by learning German in Mumbai.
Our Other Courses are:
Spanish | French | Arabic | Chinese | Mandarin |