Collocations in English – What are they and Why it's important to learn them?
Collocations are words or phrases that are used to express the meaning and usage of the word more clearly. In short, it helps to define the word properly. It was studied first in Greece. Through dictionary we can only learn the meaning of a particular word. The usage of that word in a sentence can be known only after learning collocation. There is a thin line of difference in between writing a grammatically correct sentence or writing an appealing one.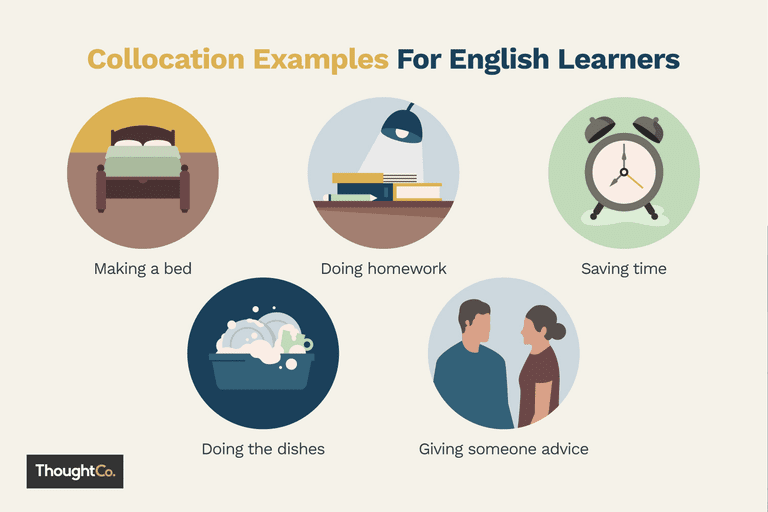 If you only concentrate on grammar sentence may sound awkward sometimes and here comes collocation. We can't improve our speaking skills without collocation. As an example you can say please sit here it is grammatically correct but sounds rigid but when we you say please feel free to sit here the same sentence sounds more catchy.
Importance of English Collocations
When we start learning spoken English we mainly hear people advising us about concentrating on vocabulary and grammar. So it's quite usual that the question why we should learn collocations; arises in our mind. Let us find the answer of this question through the following points-
Time saver
Collocation helps in shortening the sentences. You can cut down a long sentence and express it in a few words. So it saves your valuable time.
Makes language fluent
By using collocation before words the sentence becomes more fluent, natural and precise. If you want to become a good speaker you must learn it.
Usage of words
When we start to learn any language including English we mainly focus on increasing vocabulary and grammar accuracy and in the mean time collocation get avoided completely. But only the beauty of any language can be expressed when we come to know which words suit each other, which phrase can make a appealing sentence.
When we use wrong set of words it instantly prove that we have weak command over that language. Collocation saves us from that.
Improve speaking ability
If a person learns collocation his or her speaking ability will get increased. It will sound as natural as native speakers and that is obviously more pleasing to the ears. It will also develop his or her soft skills, confidence to face and do well in interviews. So it also has an important role in career growth.
Increase understanding of a topic
If an author only focus on grammar and vocabulary while describing a matter in a book it look simply like plain translation. Students find it difficult to learn as it doesn't apply to him or her. When collocations are included in a writing it becomes easier to understand so students can learn it with ease.
Usage in business and work situation
Collocation is also used to define many businesses or work related terminologies. As an example the phase annual turnover is used to define yearly profit an organization make. There are several other examples like this.
To express the intensity of any word
Many collocations are used before nouns to make it more expressive like heavy traffic, heavy rain, deep feeling, close friend etc.
The collocations are an integral part of any language. Without collocation that would have become more blunt and expressionless. 
Our Other Courses are:
Spanish | French | Arabic | Chinese | Mandarin |
Russian | Italian | German | IELTS | Toefl | English