German Languages Institute in Mumbai
The German language can be a tricky one to decipher and learn. After all, it is known as the toughest language to learn across the globe. We have listed below the top 5 mistakes that are common for a new learner.
These are the most common mistakes that learners make, but not to say there can't be more. Remember, do not feel bogged down or befuddled because of the mistakes. Making mistakes means you're learning. So learn from them and try not to repeat.
1) Not speaking enough German. The main reason for this mistake is the fear of making mistakes. Learners think they will start speaking in German once they're ready. The fact is, you won't be ready till the time you fear making mistakes. In 10 Tips to Learn German Quickly, we have highlighted the contribution of mistakes to learning a new skill. The problem is never with the mistakes, but with not learning from those mistakes. So have as many conversations in German to be able to speak flawlessly German language.
2) Not thinking in German. No language follows literal translation. So if you think in English, or in your native language, and then translate that to German, you are bound to make mistakes. Plus, this method will take you longer to learn to speak correctly. Be conscious about thinking in the German language as well to avoid silly mistakes and get into a habit of speaking German like the natives. And that goes for any other language you plan to learn in future.
3) Confusing the genders. Early learners of German language can become endlessly frustrated while learning genders. This is because the German language uses masculine, feminine and neutral genders to describe articles as well! You would wonder why assign genders to inanimate objects. But that is one of the intricacies of this language that makes it different and beautiful at the same time.
4) Tenses can make you tense. Though there are past, present and futures tenses just like in the English language, they do not exactly translate or mean the same. For example, English past tense could be translated to either German present or past tense; and German present tense translates to English future tense. And this confusion increases when you don't practice thinking in the German language.
5) Similar sounds may not have the same meaning. Quite a few German words sound similar to their English equivalent. But assuming those words to mean the same thing as in English will be a big mistake. For example, "Das Gift" in German doesn't mean a gift, but poison. So the deal is to learn what the words mean and how they are pronounced rather than to assume what they would mean and how they could be pronounced.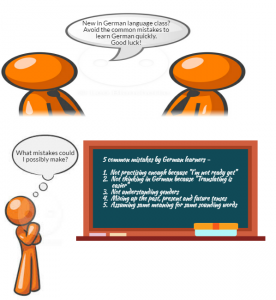 To avoid all these mistakes and to master the German language from scratch, we recommend you join Excel Academy – a renowned German language course in Mumbai. There are many German learning classes in Mumbai, but the best in terms of experienced teachers, result-oriented practice sessions, and value for money is promised by Excel Academy. Our dedicated teachers are right beside each student focusing on their dialect, recording their progress, and encouraging them to practice as much to avoid mistakes and speak the German language fluently.